KLAFS AURORA Sauna
Comfort is the new trend
The KLAFS 
AURORA

Sauna from Guncast
With the AURORA Sauna, KLAFS is responding to the trend towards particularly organic designs which give the appearance of natural growth for long-lasting, deep relaxation.
In this luxurious special edition, the ceiling, including the lighting, curves three-dimensionally towards the observer.
A feeling of comfort and shelter is created without the cabin losing any of its generous sense of space.
KLAFS Saunas by Guncast
Guncast is the selected UK partner for KLAFS products. Our aim is to make the design and installation process as easy as possible, so you can relax and concentrate on getting excited about your new KLAFS sauna.
Book a Design Consultancy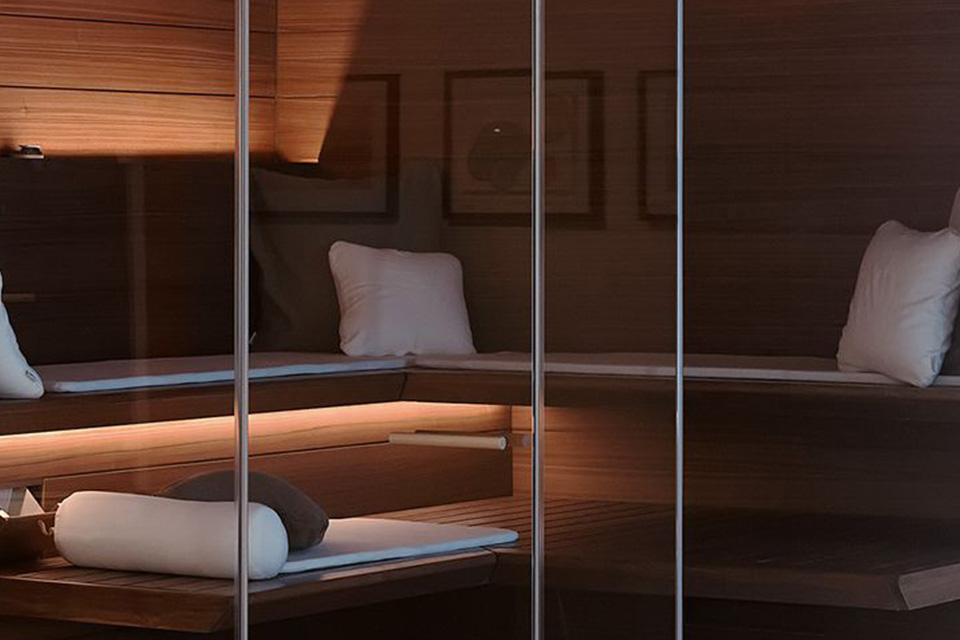 Design of the KLAFS AURORA Sauna
From KLAF's Interior Line of Saunas
Highlights include the elegant walnut or hemlock interior with seemingly weightless benches and comfortable sauna cushions and mats.
The elegant EUKLID illuminated ceiling can be seen from the outside through the generous glass front. This sculptural work of art makes the AURORA a fascinating retreat for the eyes and soul.
An organic, flowing design, the KLAFS AURORA is a luxury spa dream which can transform your home into an exclusive spa oasis.
Numerous sizes are available as standard.
Exterior panelling with large frameless glass front
"Floating" benches make the sauna even more elegant
Interior panelling and sauna benches in hemlock, alternatively in walnut
The comfortable MOLLIS sauna cushions and mats increase comfort when sitting and lying
Individuality: Our experts have designed tailor-made solutions for challenging spatial conditions and angled rooms.
10-year warranty on your privately used sauna and 5 years on the sauna heater and sauna control unit.
KLAFS Quality. KLAFS design.  Guncast Installation.
Choose from a number of different control and heater options including:
FERO SAUNA AND SANARIUM HEATER: The FERO free-standing heater for smaller sauna layouts. Compact with an unobtrusive design
MAJUS SAUNA AND SANARIUM HEATER: The MAJUS boasts excellent infusion properties for intensive heat surges. With the patented Turboheat function you can bring your sauna up to temperature in no time at all
BONATHERM SAUNA HEATER: Stowed under the bench seat, it is particularly childproof and creates extra space inside the sauna
21029T/21033 T SAUNA CONTROL UNIT: A minimalist, elegant design, with high-quality inlay in an aluminium finish (in 6 colours). Ultra-compact styling complemented by intuitive user interface