KLAFS CASENA Sauna
Symmetry, harmony, elegance and generosity
The KLAFS CASENA Sauna from Guncast
Thanks to a large glass front with exterior panelling in wenge on the front wall, the CASENA provides a direct view into its interior.
Yes, this sauna is all about symmetry, harmony, elegance and generosity.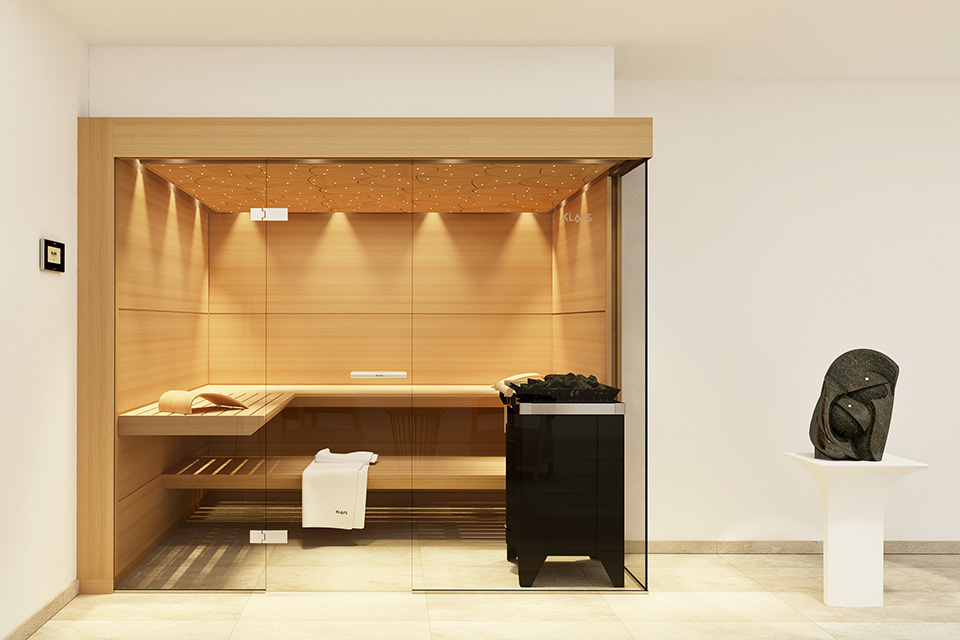 KLAFS Saunas by Guncast
Guncast is the selected UK partner for KLAFS products. Our aim is to make the design and installation process as easy as possible, so you can relax and concentrate on getting excited about your new KLAFS sauna.
Book a Design Consultancy
Design of the KLAFS CASENA Sauna
From KLAF's Interior Line of Saunas
Absolutely nothing will distract your thoughts from roaming freely and coming to rest – except, perhaps, for the optional STERNENHIMMEL POLAR, which will complete your zen-like experience of relaxation and make it absolute perfection
This Sauna attracts attention
Bringing the relaxation experience to Zen-like perfection
The large interior veneer panels in wenge and the floating benches in hemlock give this sauna a special feeling of lightness.
There's only one thing left to do. Lean back comfortably on the sauna mats and MOLLIS sauna cushions and let yourself be fascinated by the special design of the CASENA Sauna time and time again.
With its "floating" benches and frameless glass front, the CASENA is an absolute design highlight
Customised fixtures such as size adjustments and height changes in 10 cm increments are possible.
CURVE ceiling in wenge
Interior panelling also available in dark wenge veneer panels
The exterior panelling can be selected from a range of wooden panels.
BONATHERM underbench heating system creates additional seats.
Assembly is carried out by our trained specialist fitters.
10-year warranty on your privately used sauna and 5 years on the sauna heater and sauna control unit.
KLAFS Quality. KLAFS design.  Guncast Installation.
Choose from a number of different control and heater options including:
BONATHERM SAUNA HEATER: Stowed under the bench seat, it is particularly childproof and creates extra space inside the sauna
SAUNA CONTROL 21029/21033: These sauna control units feature an elegant, flat,one-box design with a high-quality printed glass pane, as well as a brilliant, 7-inch colour graphics display
21029T/21033 T SAUNA CONTROL UNIT: A minimalist, elegant design, with high-quality inlay in an aluminium finish (in 6 colours). Ultra-compact styling complemented by intuitive user interface
Control via the KLAFS Sauna app – Start your sauna before you get home