KLAFS CHALET Sauna
Stylish and cosy
The KLAFS
CHALET Sauna 

from Guncast
With a contemporary interpretation of the chalet character, this sauna achieves the perfect balance between tradition and modernity.
Alpine charm radiates from the chosen materials: the vividly marked wood of the Swiss stone pine. 
KLAFS Saunas by Guncast
Guncast is the selected UK partner for KLAFS products. Our aim is to make the design and installation process as easy as possible, so you can relax and concentrate on getting excited about your new KLAFS sauna.
Book a Design Consultancy
Design of the KLAFS Chalet Sauna
From KLAF's Interior Line of Saunas
The Chalet is a modular sauna with interior panelling made from horizontally mounted Swiss stone pine veneer panels as well as a stepped ceiling and decorative wall elements. The benches exude puristic elegance thanks to sapwood-free softwood with veneer between the benches. Ventilation is provided via and exhaust air system integrated into the sauna wall
Contemporary interpretation of the chalet character
The drop ceiling and ornamental elements on the wall emphasise the traditional feel.
Available in the UK from Guncast.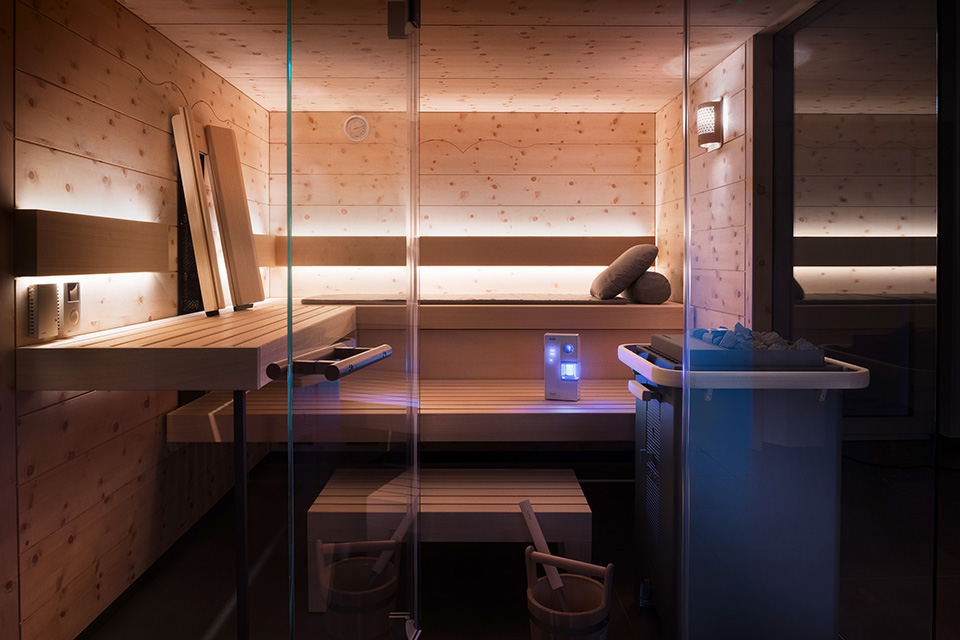 Perfect design in CHALET character.
Traditional accents with stepped ceiling and decorative wall elements.
Interior panelling in horizontally arranged Swiss stone pine veneer panels.
The bench design exudes puristic elegance.
The compact FERO floor-standing sauna heater ensures intensive infusions.
The 21029 sauna control unit in flat, one-box design or optionally as a T-model with separate power unit.
Assembly is carried out by our trained specialist fitters.
10-year warranty on your privately used sauna and 5 years on the sauna heater and sauna control unit.
KLAFS Quality. KLAFS design.  Guncast Installation.
Choose from a number of different control and heater options including:
FERO SAUNA AND SANARIUM HEATER: The FERO free-standing heater for smaller sauna layouts. Compact with an unobtrusive design
MAJUS SAUNA AND SANARIUM HEATER: The MAJUS boasts excellent infusion properties for intensive heat surges. With the patented Turboheat function you can bring your sauna up to temperature in no time at all
BONATHERM SAUNA HEATER: Stowed under the bench seat, it is particularly childproof and creates extra space inside the sauna
SAUNA CONTROL 21029/21033: These sauna control units feature an elegant, flat,one-box design with a high-quality printed glass pane, as well as a brilliant, 7-inch colour graphics display
21029T/21033 T SAUNA CONTROL UNIT: A minimalist, elegant design, with high-quality inlay in an aluminium finish (in 6 colours). Ultra-compact styling complemented by intuitive user interface
Control via the KLAFS Sauna App – turn on before you get home