The KLAFS Thermal Experience by Guncast
Creating destinations your visitors remember
For high-end hotels, gyms, day spas, clubs and even cruise ships, KLAFS spa installations have set the scene for success across the globe. 
We create the ultimate wellness journey for your guests, bringing a luxurious setting that encourages relaxation and harmony.
Guncast is the UK partner for the world famous KLAFS brand giving you one point of contact for the complete leisure facility (including fit-out), whether its a new build, extension/annex or refurbishment.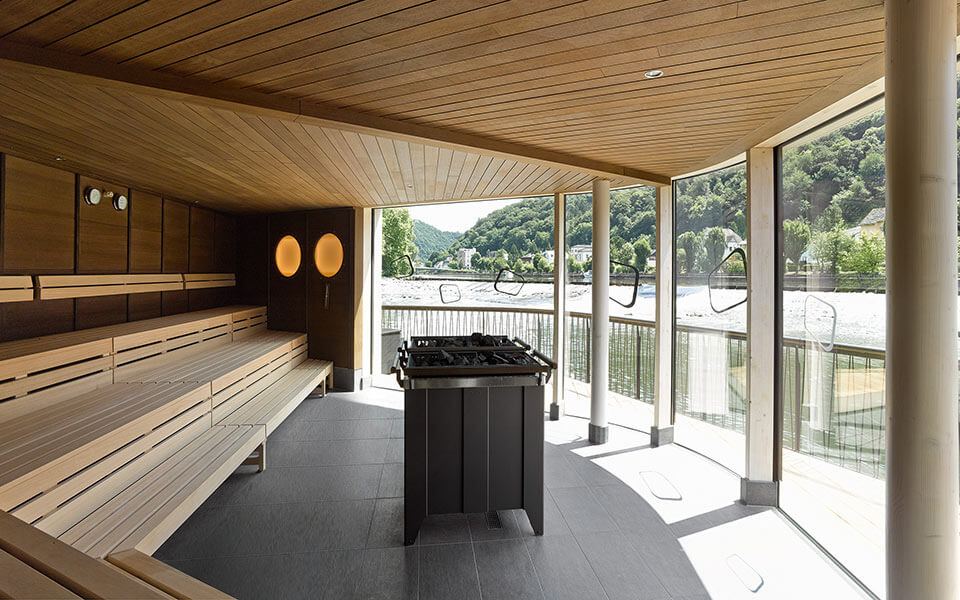 Whether you're looking to implement a small sauna cabin for your boutique hotel or a full spa area with luxury facilities, Guncast can provide wellness design and build expertise that will provide your guests with the ultimate relaxation experience.
Our team of experienced interior designers, engineers and project managers work on sauna, pool and spa projects across the UK. Our commercial projects are tailored to each and every project to the individual customer wishes and requirements.
Steam room design and installation
KLAFS Steam rooms in the UK by guncast
Our steam room designs will enhance any wellness facility bringing a wellness journey your guests will remember.
To date, more than 150,000 hotels, gyms, leisure centres and private individuals around the world have chosen KLAFS.
From initial design to expert finish, Guncast is committed to delivering beautiful, bespoke wellness facilities on time, on budget and with minimal fuss for your business.
From ice to heat.  Cabins to pools
Beautiful design.  Built to last.
Complete solutions for wellness centres
By far the most important aspect of a wellness project to any client is aesthetics and creating the "wow" factor.
The Guncast design team in collaboration with KLAFS is one of the most experienced teams in the world designing luxury wellness facilities and spa pools.
We can provide a complete design and installation service. It all starts with the space, use and your wildest dreams.
What about a sauna in your hotel rooms?
Retractable KLAFS sauna for premium hotel rooms
For your best hotel rooms, forget the installation costs and maintenance of a spa pool. Install a sauna instead.
If you didn't think you had the space for a sauna, think again.
At the touch of a button the KLAFS S1 sauna extends from its collapsed 60cm to a comfortable 1.6m sauna in just 20 seconds, with everything you would expect for a relaxing sauna session your guests will love.
Beautiful pools, built to last
Did you know we also design and build swimming pools for hotels and clubs? 
We originated as a premium swimming pool company and now design and build luxurious lap pools, plunge pools, vitality pools and more. This gives you one point of contact for the complete leisure facility or even just the refurbishment of the tiling up to an existing pool.