The New Sauna S1
Fits, Easily, Anywhere
The KLAFS S1 Sauna from Guncast
From zero to sauna in 20 seconds
The new sauna S1 from KLAFS is the first in the world that can retract at the touch of a button – just like a zoom lens on a camera
When retracted, the Sauna S1 is a svelte 60 cm and no deeper than the average closet. When extended, the Sauna S1's 1.60 m depth offers plenty of room to enjoy a relaxing sauna.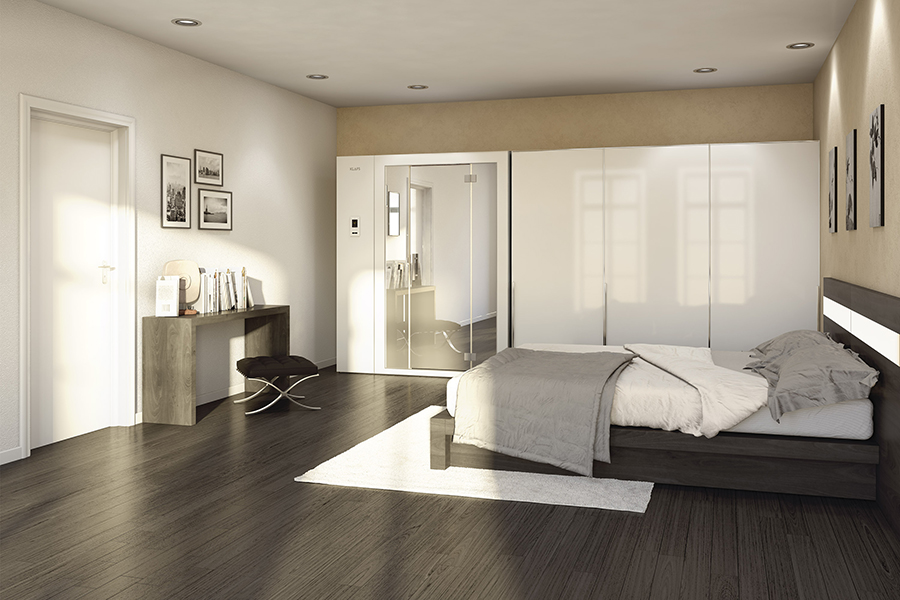 Award winning design of the S1
If you thought you didn't have space, think again
The name says it all: at the push of a button, it takes the new Sauna S1 just 21 seconds to expand from the size of a wall closet to a ready-to-go sauna. In this way, eMove technology ensures synchronous, gentle movement. So gentle, in fact, that it stops automatically if something gets in the way.
And it is designed to be maintenance-free so that you can simply sit back and enjoy the pleasures of your sauna for many years to come.
Extra Small
Dimensions: 142 x 160 x 211cm (B x D x H)
Power: 230V, 3.3kW
Small
Dimensions: 172 x 160 x 211cm (B x D x H)
Power: 230V, 3.3kW
Medium
Dimensions: 202 x 160 x 211cm (B x D x H)
Power: 230V, 3.3kW
Large
Dimensions: 222 x 160 x 211cm (B x D x H)
Power: 230V, 3.3kW
Hemlock
Walnut
Pineal